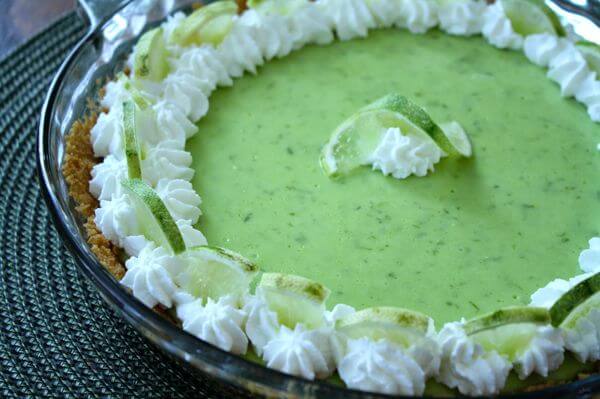 Ingredients
4 teaspoons grated lime zest
4 egg yolks
1 (14-ounce) can sweetened condensed milk
½ cup fresh key lime juice
9 graham crackers, pulverized into crumbs (about 1 cup cracker crumbs)
2 tablespoons granulated sugar
5 tablespoons unsalted butter, melted and still warm
1½ cups heavy cream, chilled
½ cup powdered sugar
1 teaspoon vanilla extract
Directions
Preheat oven to 325 degrees.
Make the Filling: Whisk the lime zest and egg yolks together in a medium bowl for 2 minutes. Whisk in the sweetened condensed milk, then the lime juice.* Set aside at room temperature to thicken while you prepare the crust.
Make the Crust: In a medium bowl, stir together the graham cracker crumbs and the granulated sugar. While stirring and mixing continuously with a fork, slowly drizzle the melted butter into the graham cracker and sugar mixture. Once you are done, all of the dry ingredients should be moistened and it should look like wet sand. Transfer the crumbs to a 9-inch pie plate and evenly press the crumbs into the pie plate. Bake the crust until it is fragrant and beginning to brown, 15 to 18 minutes; transfer to a wire rack to cool to room temperature.
Once the crust has cooled to room temperature, pour the lime filling into the crust. Bake until the center is set, yet still wiggly when jiggled, 15 to 17 minutes. Return the pie to a wire rack; cool to room temperature. Refrigerate until well-chilled, at least 3 hours. (At this point, the pie can be covered directly with plastic wrap and refrigerated for up to 1 day.)
Make the Whipped Cream: Chill a mixing bowl in the fridge for 15-20 minutes. Pour 1½ cups heavy cream into the bowl. With an electric hand mixer, whip the cream on medium speed until soft peaks form. Soft peaks will form in 1-2 minutes. At this point, add the powdered sugar, 1 tablespoon at a time, followed by the vanilla extract, while continuing to whip the cream until stiff peaks form.
Decoratively pipe the whipped cream over the filling or spread the whipped cream evenly with a spatula. Garnish with lime slices, if desired, and serve. Cover leftovers with plastic wrap and refrigerate for up to 3 days.