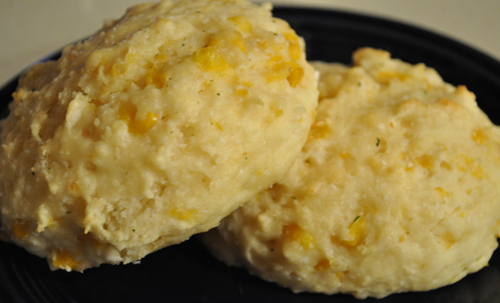 In many households, biscuits with a meal is a staple, especially when it comes to meaty dishes that warm your bones in the wintertime. These Quick Corn Biscuits are made to be denser and fuller than standard biscuits due to the inclusion of cream corn that thickens them up and makes them perfect for eating as a side with meat and potatoes or eating sprinkled on top of your favorite chili. The sharp garlic salt and rich butter in the recipe make the biscuits take on a familiar, nostalgic flavor that is pronounced to make them tasty on their own, but neutral enough to eat with a main dish or casserole.
Ingredients
1 1/2 cups baking mix
1 cup cream-style corn
1 tablespoon butter, melted
Garlic salt, to taste
Directions
Preheat oven to 400 degrees. Line a baking sheet with parchment paper.
Combine the3/4 cup of baking mix and cream-style corn in a medium bowl. Stir together and then fold, using a spatula, until there are no lumps, being careful not to overwork the dough. If the dough seems too thick, fold in the remaining 1/4 cup of corn.
Use an ice cream scoop to scoop the dough and dollop it onto the parchment-lined baking sheet. Brush with the melted butter and sprinkle lightly with the garlic salt. Bake for about 12-15 minutes (depending on the size of the scoop used), until golden on the outside.
Makes about 6-8 biscuits, depending on the size of the scoop used.