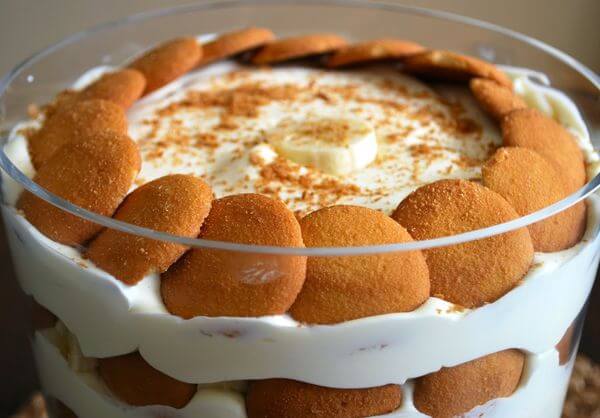 Ingredients
16 oz can sweetened condensed milk
1 1/2 cups ice cold water
Small box (3.4 oz) instant vanilla pudding mix
3 cups heavy whipping cream
Box Nilla Wafers
4 sliced bananas
Directions
In the bowl of a mixer, beat sweetened condensed milk and water for about a minute. Add the pudding mix and beat for about two more minutes. Transfer to a smaller bowl, cover, and refrigerate for at least 4 hours or overnight. You want the mixture to be extremely firm.
In a large bowl on medium speed, whip the heavy cream until stiff peaks form (I put my metal mixing bowl and whisk mixer attachment in the freezer for five minutes prior…the cream always whips up very quickly this way). Using a rubber spatula, gently fold in the pudding mixture until fully combined and no streaks of pudding are visible.
In a large bowl or trifle stand, layer wafers, bananas, and pudding. Ideally, you want three layers but if you go with a larger baking dish you might only have two. Cover tightly with plastic wrap and refrigerate for about 4-8 hours before serving.