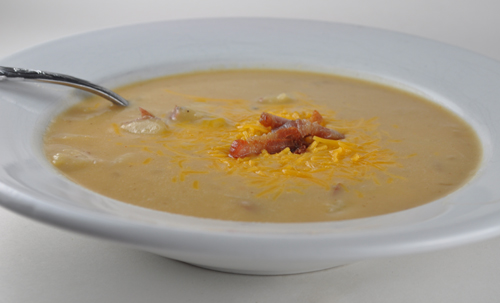 Ingredients
3 strips of bacon
Olive oil (about 2 tablespoons)
1 cup very finely chopped onion, about 1 small onion
3 tablespoons flour
4 cups reduced-sodium chicken broth (I used one of the new Knorr Homestyle Stock chicken flavor and diluted it with 4 cups of water)
1 cup peeled and diced raw potato
1 cups leftover mashed potatoes
1 beer cheese spread
Milk or half and half, if needed, to get the soup to the consistency of your liking
Salt and freshly ground black pepper, to taste
Shredded sharp cheddar cheese, for serving
Directions
Spray a stock pot or Dutch oven with nonstick cooking spray. Cook bacon over medium heat in the prepared stock pot until bacon is crisp. Remove bacon and drain on paper towels. Leave the bacon drippings in the pan and add enough olive oil to make about 3 tablespoons of fat (you'll probably need about 2 tablespoons of olive oil). Crumble the bacon and set aside.
Heat the drippings and olive oil over medium-high heat and add the onion. Saute until the onion is very tender and translucent, about 5 minutes.
Whisk in the flour and cook, stirring, for 1 minute. Whisk in the broth and diced potatoes mashed potatoes and bring to a boil. Reduce heat and simmer, stirring occasionally, for 15 minutes, until potatoes are tender.
Stir in the mashed potatoes and beer cheese spread and simmer 5 minutes more. If the soup is too thick, thin it a little with some milk or half and half. Taste and add salt and pepper as needed. Ladle into bowls and sprinkle each serving with a little crumbled bacon and shredded cheddar cheese.
Makes about 4 big bowls of soup.