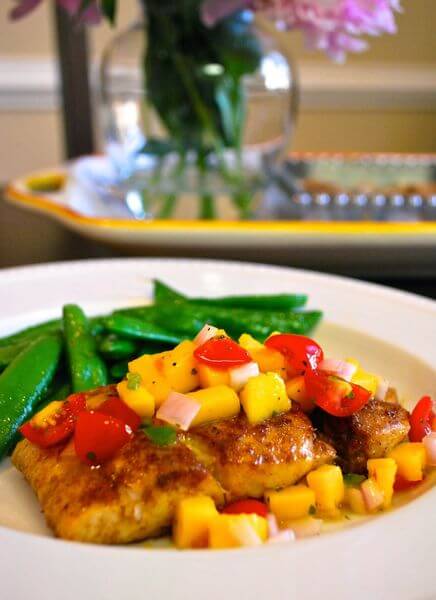 Ingredients
2 fresh or frozen Mahi Mahi fillets
2 tablespoons extra virgin olive oil
2 teaspoons cajun seasoning (more if you like it hot)
Dash of cayenne pepper
Salt and ground black pepper to taste
1 cup chopped mango
½ teaspoon finely chopped jalapeno peppers
¼ cup chopped red onion
¼ cup chopped cilantro
5 grape tomatoes, quartered
Directions
Combine 1 cup chopped mango, 1 teaspoon finely chopped jalapeno peppers, 1/4 cup chopped red onion, 1/4 cup chopped cilantro, and a few halved grape tomatoes in a bowl. Squeezed juice of 1 lime over mixture. Stir together and let sit for 20-30 minutes.
Heat a non-stick pan with a fitting lid over medium high heat and swirl extra virgin olive oil twice around the pan.
Coat the Mahi Mahi thoroughly on both sides with a dash of olive oil, followed by the cajun seasoning, cayenne pepper, salt, and ground back pepper.
Once the oil is hot, place in pan and cover, which locks in the heat and tenderness of the fish and creates a slight crunch on the outside.
Blacken about 2-3 minutes per side, flipping once, until fish is cooked through. Thicker fish filets may take 4-5 minutes per side.
Remove fish from the pan. Plate and top with mango salsa and serve immediately.