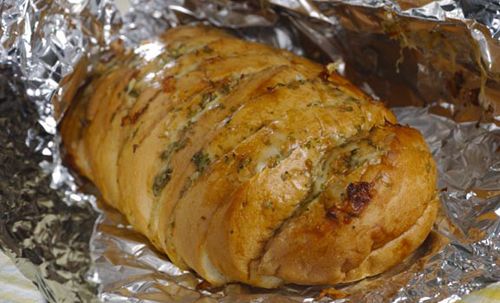 Whether you're looking for something to cook to warm the house during the winter or need the perfect side to go with your favorite pasta dishes, look no further than the Cheesy French Bread. Crusty, warm and gooey, the Cheesy French Bread is a classic loaf of French bread that can easily be sliced up and eaten on its own or enjoyed with your favorite red sauce. Inside, the tang of sharp cheddar cheese works in harmony with the spiciness of pepper jack for a flavorful explosion in every bite. Garlic and Worcestershire sauce add a unique flavor note that makes this bread stand out.
Ingredients
1 12-inch oval loaf French bread
½ cup butter or margarine, softened
1 cup shredded Monterey Jack or sharp cheddar cheese
2 tablespoons chopped fresh parsley
1 teaspoon finely chopped garlic, about 1 clove
2 teaspoons Worcestershire sauce
Directions
Preheat oven to 350 degrees.  Slice loaf of bread at 1-inch intervals, being careful not to cut all the way through.  Place loaf on a long sheet of aluminum foil.  Combine the softened butter and remaining ingredients in a bowl, stirring until well combined. Spread approximately 1 tablespoon of the butter mixture inside each slice of bread.  Spread any remaining butter mixture over the top of the loaf.  Secure foil tightly and bake for 20 minutes.  Unwrap foil to expose top of loaf and bake 10 minutes more.
Makes 6 servings.