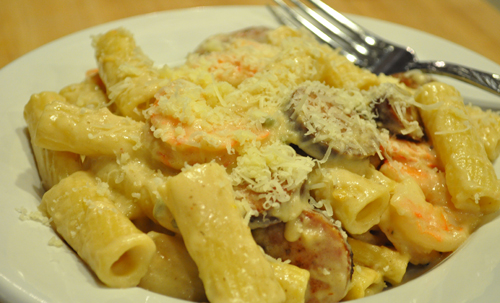 The savory flavor of thick sausage combines with the meaty, salty taste of bacon drippings to create the meaty base of the Creamy Pasta with Smoked Sausage and Shrimp, a delicious, hearty pasta that takes no time at all to prepare and can be served up fast. The best part is that this recipe calls for leftover meat, making it even easier to throw together in no time at all. Shrimp pieces and stock combine with the sausage to give it a Cajun-style feel, and the thick penne or rigatoni pasta provides the perfect base for all of the ingredients.
Ingredients
8 ounces penne, rigatoni or other pasta
3 tablespoons butter or bacon drippings
1/2 pound leftover smoked sausage (from boil or smoker), such as kielbasa, Polish sausage or andouille, cut into 1/2-inch slices
3 tablespoons all -purpose flour
1 cup half and half
1 cup homemade chicken broth, shrimp stock or vegetable broth, or 1 cup clam juice or 1 cup reduced-sodium chicken or vegetable broth
1/3 cup dry sherry
1 large roasted red bell pepper, chopped, optional
1/2 teaspoon smoked paprika
1/8 teaspoon cayenne pepper
1 teaspoon salt
Freshly ground black pepper, to taste
1 pound leftover cooked, peeled and deveined shrimp
Freshly grated Parmesan cheese, for serving
Directions
Bring a large pot of salted water to a boil. Add the pasta and cook according to package directions. Reserve 1 cup of the pasta water. Drain pasta and return to the pot.
Heat the butter or bacon drippings in a large skillet. Add the smoked sausage and brown well on both sides, about 2 minutes per side. Remove to a plate and set aside.
Stir in the flour and cook for 1 minute. Whisk in the half and half, broth and sherry. Bring to a boil, reduce heat and simmer until thickened, about 5 minutes. Add the red bell pepper, if using, paprika, cayenne, salt and pepper. Simmer for 5 minutes more. Stir in the sausage and shrimp and cook until they are heated through, about 3 minutes. Pour the sauce over the pasta. If the sauce is too thick, add a little of the pasta cooking water until you reach the desired consistency.
Sprinkle with freshly grated Parmesan and pass additional Parmesan at the table.
Makes about 6 servings.