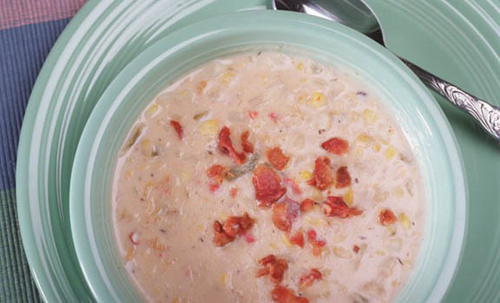 Ingredients
3 slices bacon
1 cup frozen stir-fry pepper blend, thawed and coarsely chopped
1 rib celery, chopped
1 clove garlic, minced
1/4 cup flour
1 bay leaf
2 14.5-ounce cans low sodium chicken broth
3 cups diced potatoes or frozen Southern style hash browns
2 cups frozen whole kernel corn
1/2 teaspoon dried thyme
1 teaspoon salt
1/2 teaspoon black pepper
Dash cayenne, optional
1 16-ounce can cream-style corn
1 cup whipping cream
Directions
Fry bacon in a Dutch oven over medium high heat, until crisp. Remove and let drain on paper towels. Add stir-fry blend and celery to bacon grease and saute 2 to 3 minutes. Add garlic and saute 1 minute. Add flour, stirring, 1 minute. Add bay leaf and 1 can of the chicken broth, stirring until smooth.
Add remaining can of broth, diced potatoes, frozen corn, thyme, salt, black pepper and cayenne, if desired. Cover and bring to a boil. Reduce heat and simmer, covered, 15 minutes. When potatoes are tender, stir in cream-style corn and whipping cream and heat through. Do not boil.
Makes 6 to 8 servings.