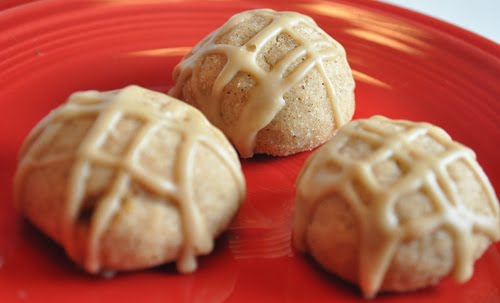 When you're craving something decadent and sweet, turn to these Maple Glazed Cinnamon Cookies. Rich and flavorful, these cookies combine the smooth, one-of-a-kind flavor of maple with the slightly spicy sweetness of cinnamon to create a warm, full-bodied, flavorful glaze to drizzle over the cookies. This particular flavor combination makes them ideal for enjoying during the chilly nights of autumn. These cookies are lightweight and airy, making them easy to eat after dinner without feeling too full. They are simple to prepare and easy to store.
For the cookies:
Ingredients
3 cups all-purpose flour
1/2 teaspoon salt
2 teaspoons ground cinnamon, plus 1 teaspoon for rolling the cookies
1 cup (2 sticks) butter, softened
3/4 cup granulated sugar, plus 1/3 cup for rolling the cookies
1/2 cup light brown sugar
1 large egg
1 teaspoon vanilla extract
Directions
Preheat oven to 350 degrees.
Whisk the flour, salt, and cinnamon together and a large mixing bowl and set aside.
Place the butter and sugars in the bowl of an electric stand mixer fitted with the paddle attachment and cream on medium speed until light and fluffy, about 1 minute. Add the egg and vanilla and beat until well incorporated. With the mixer on low, slowly beat in the dry ingredients. Increase speed to medium and beat until the dough pulls away from the sides of the bowl.
Combine the remaining 1/3 cup granulated sugar and 1 teaspoon cinnamon in a shallow bowl. Roll the cookies into 1-inch balls and then roll in the cinnamon-sugar mixture. Bake on parchment-lined baking sheets for 10 minutes, until golden brown. Remove to cooling racks and cool completely. When cool, drizzle with the glaze (see below). Allow glaze to harden before storing in an air-tight container.
Makes about 3 dozen cookies.
For the glaze:
Ingredients
1 cup confectioners' sugar
1 tablespoon corn syrup
1 tablespoon plus 1 teaspoon water
½ teaspoon vanilla extract
½ teaspoon maple flavoring
Directions
Whisk together and then spoon into a zip-top sandwich bag. Cut off a small portion of a corner of the bag and drizzle with the glaze. Allow the glaze to harden before storing in an air-tight container.