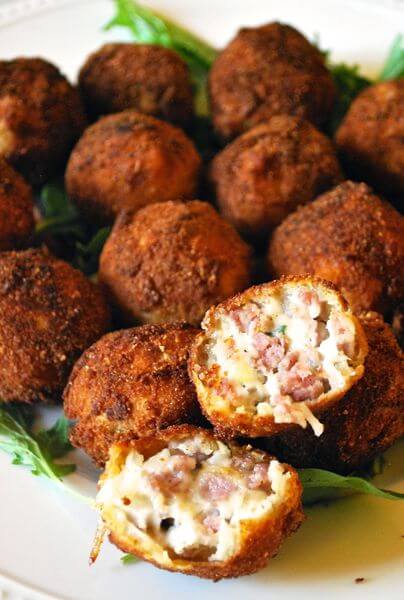 Ingredients
1½ pounds pork bratwursts, ground ham, or corned beef (or mixture)
2 pounds sauerkraut, squeezed and drained
1 teaspoon dry mustard
1 small onion
1 pinch parsley
2 cups flour
2 cups of milk
Egg (for coating)
Unseasoned bread crumbs (for coating)
Vegetable oil (for frying)
Honey mustard, thousand island, or cocktail sauce (for dipping)
Directions
Remove casing from bratwursts. Brown meat, onion, and parsley in a medium skillet over medium-high heat.
Add flour, milk and mustard. Stir together until combined and fluffy. Transfer to a mixing bowl and allow to cool.
Add sauerkraut and mix again. Roll into balls (about the size of a golf ball or slightly smaller) then completely cover balls first in flour, then dip in egg, and finally roll in bread crumbs.
Freeze for 20-25 minutes on a baking sheet before frying until dark brown. Drain on paper towels and serve with dipping sauce of choice.