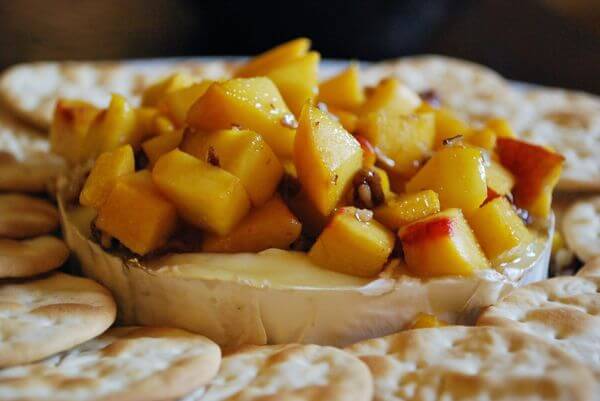 Ingredients
1 8 ounce round of double cream brie
1 ½ peaches, washed and diced (half peeled)
2 tablespoons light brown sugar
1 tablespoon honey
¼ cup pecans, coarsely chopped
1 package thin crackers or 1 baguette, sliced
Directions
Preheat oven 400 degrees. Grease a small baking pan, baking sheet, or oven safe dish. Carefully cut the top rind off the brie. Add brie to the baking pan, cut side facing up.
In a microwave safe bowl, add peaches, sugar and honey. Microwave for 30 seconds. Stir to combine and microwave for an additional 30-45 seconds.
Spread the peach mixture on top of the brie, piling up and allowing the peaches to spill over the sides.
Bake for 7-8 minutes or until the brie is soft. Let stand 5 minutes before serving.