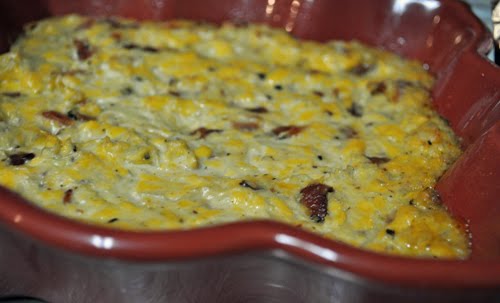 Savory and filling, the Peppery Bacon-Cheddar Artichoke Spread is the perfect accompaniment to any bread and cracker tray. The thick spread can be enjoyed for get togethers, game day, or just as a treat while watching movies at night. It has a savory, meaty flavor that comes from the inclusion of bacon that is cooked until it is crisp and crunchy. Earthy artichoke hearts help to balance out the savory taste, while the sharp cheddar cheese adds a familiar creamy element. Just a little bit of Tabasco adds a slight kick to the dish and makes it one to remember.
Ingredients
6 strips of bacon, cooked until crisp and coarsely chopped
1 can artichoke hearts, well drained
1 cup shredded sharp cheddar cheese
3/4 cup reduced-fat mayonnaise
1 teaspoon coarsely ground black pepper
5 dashes Tabasco or other hot sauce
Wheat crackers, for serving
Directions
Preheat oven to 350 degrees. Place the artichoke hearts in the food processor and pulse a few times. Add the remaining ingredients and pulse until blended but still chunky.
Spread in a baking dish and bake for 25-30 minutes, until bubbly around the edges.
Serve with the wheat crackers.