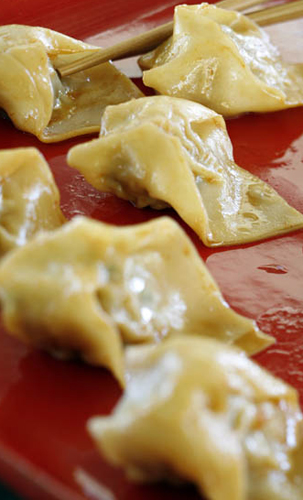 Get all of the flavors from your favorite Asian restaurants right at home when you cook up these Spicy Pork Wontons. Full of classic pork flavor, the wontons are sure to satisfy your craving for something meaty and salty while also giving you a food that really sticks to the ribs on chilly fall and winter nights. Ingredients such as spicy sriracha and salty soy sauce provide a unique flavor profile that is distinctively Asian. The sticky texture of the wonton wraps makes each one a delight to chew and can be dipped in your choice of sauces to enhance the experience.
Ingredients
For the Sesame Sauce:
2 teaspoons sesame oil
1 teaspoon chile oil or Sriracha
2 teaspoons soy sauce
2 teaspoons white vinegar
1 clove garlic, minced
1 teaspoon brown sugar
For the Wontons:
½ pound pork, minced
4 green onions, chopped
1 teaspoon chile oil or Sriracha sauce
1 teaspoon soy sauce
1 teaspoon brown sugar
1 package wonton wrappers
Directions
Bring a large pot of salted water to a boil. Combine the sesame sauce ingredients together in a bowl. Set aside.
Prepare the wontons. Combine the pork, green onions, sriracha, soy sauce and brown sugar. Fold a bit of the mixture inside each wonton wrapper, pressing the edges together to make wontons. Boil the wontons for about 5 minutes, until they float. Drain the wontons, place them in a serving bowl and toss with the sesame sauce.
Makes about 2 dozen wontons.