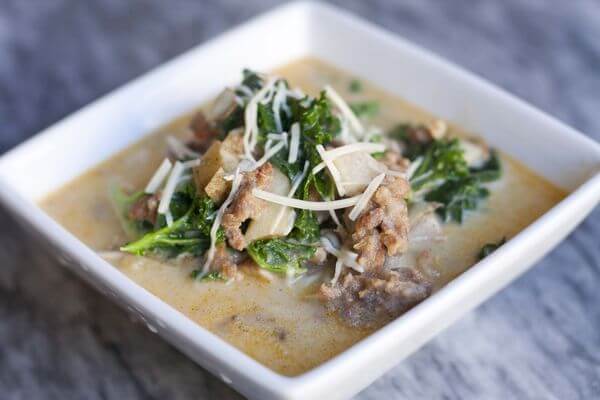 Ingredients
1/4 pound italian sausage
1 slab of thick cut bacon sliced into 1/2 inch pieces
1/2 onion sliced
2 cloves of garlic, minced
3/4 pounds of potatoes, chopped
1/4-1/2 cup dry white wine to deglaze the pot
2.5-3 cups chicken broth
1/2 cup half and half with 1/2 tbsp of cornstarch mixed in
1/4 bunch of curly kale, chopped
Parmesan cheese to garnish
Directions
In a large dutch oven, crumble the italian sausage into the pot, cook over medium for 10 minutes or until no longer pink. Remove and drain.
Cook the bacon and onions in the same pot, add in onions, garlic, and potatoes, stir frequently to prevent from sticking to the bottom. After 7 minutes, deglaze pan with wine, scrape up all the brown bits, and add in the chicken broth, let simmer for 20 minutes.
Add in the italian sausage again, and bring back to a gentle boil, add the half and half mixture, and stir, simmer for a few minutes.
Add in kale, and simmer until kale is starting to wilt ( a few minutes only!) Serve immediately, garnish with cheese if you'd like.