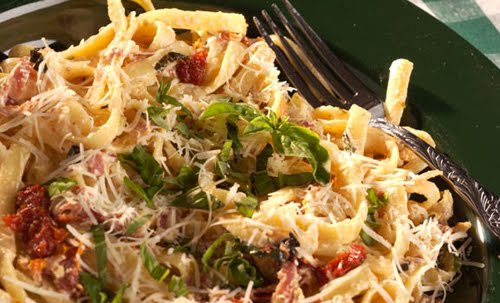 Tangy sundried tomatoes and spicy jalapeño peppers make the Sundried Tomato and Basil Pasta a bright and summery way for you to enjoy pastas even during the sweltering days of summer. This Sundried Tomato and Basil Pasta uses fettuccine noodles whose flat bodies allow for more of the ingredients to stick to every inch of them to make every bite a flavorful one. Chopped spinach and minced garlic give the pasta a classic earthy flavor, and the parmesan cheese applied to the top adds the perfect finishing touch to what is sure to become your new favorite pasta.
Ingredients
½ cup oil-packed sundried tomatoes
1 jalapeno pepper, seeds removed, chopped
1 teaspoon minced garlic
2 cups half and half
2 cups coarsely chopped fresh spinach
Freshly grated Parmesan cheese, to taste
Salt and freshly ground black pepper, to taste
9 ounces refrigerated fettuccine
Directions
Bring a large pot of salted water to a boil over medium high heat.
Drain oil from ½ cup of sundried tomatoes over a large skillet. Set tomatoes aside, and heat the oil over medium-high heat. Add the chopped jalapeno and garlic and saute for about 3 minutes. Add half and half and bring to a boil. Reduce heat, and simmer until reduced by one-third, about 5 minutes. Stir in the spinach.
While the sauce reduces, cook the fettuccine in the salted water according to package directions. Drain and add to the skillet with the sauce, tossing gently to coat well. Add the Parmesan, salt and black pepper to taste and toss again. Serve immediately.
Makes 3-4 servings.