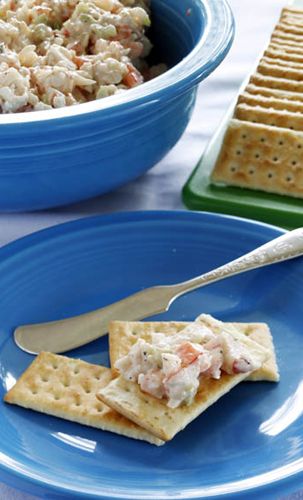 When you're looking for a light, fresh dip or side dish during a warm summer picnic, the Tarragon Shrimp Salad is your best bet. This shrimp salad uses a light base of mayonnaise and sour cream with delicious shrimp making up the base of the dish. Old Bay and Cajun seasonings bring a little bit of down-home Cajun flavor to the dish, adding plenty of savory flavor without making it feel too heavy. Add a little celery for crunch and serve it on your favorite brand of club crackers for the best taste.
Ingredients
2 pounds large shrimp, steamed, peeled and deveined, and chopped
2 ribs celery, very finely chopped
1/2 cup regular or reduced-fat mayonnaise
1/2 cup regular or reduced-fat sour cream
2 teaspoons fresh tarragon leaves, chopped, or 1 teaspoon dried tarragon leaves, crumbled
1 teaspoon Cajun seasoning
1 teaspoon Old Bay seasoning
Crackers, for serving
Directions
Combine all ingredients in a bowl. Cover with plastic wrap and chill until ready to serve. When ready to serve, place a lettuce leaf on each salad plate. Top with a scoop of the shrimp salad and serve with the crackers.
Makes 4 main dish or 6-8 side dish servings.