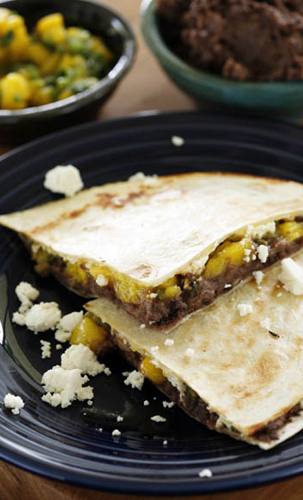 Even if you can't head down to the tropics this summer for vacation, you can still eat as if you were lounging on the shores when you cook up these Black Bean and Mango Quesadillas. The quesadillas blend spicy and sweet into one delicious package and finish it off with Mexican-style black beans that will have you feeling like you're vacationing south of the border. Inside of the flour tortillas, chopped mango offers a sweetness that rounds out the spicy kick of jalapenos, while your choice of feta cheese or queso fresco helps to add a creamy texture to each bite.
Ingredients
1 ripe mango, peeled and diced
2 green onions, chopped
2 tablespoons chopped cilantro, chopped
1 tablespoon chopped fresh jalapeno
Sea salt and freshly ground black pepper, to taste
4 fajita-sized flour tortillas
2/3 cup canned refried black beans
½ cup crumbled queso fresco or feta cheese
Sour cream, optional, for serving
Directions
Stir the mango, green onions, cilantro and jalapeno together in a bowl. Season with salt and pepper and set aside.
Lay 2 of the tortillas on a flat surface. Spread half of the refried black beans on each tortilla. Sprinkle half of the mango mixture over the top of the black beans. Sprinkle half of the queso fresco over each. Top each with the remaining two tortillas.
Heat a cast-iron skillet or grill pan. When hot, add one of the quesadillas, cheese side down. Grill 2-3 minutes, until golden brown. Turn over and grill on the other side for 2-3 minutes. Continue with remaining quesadilla. Cut into wedges and serve with a dollop of sour cream, if desired.
Makes 2-4 main dish servings.