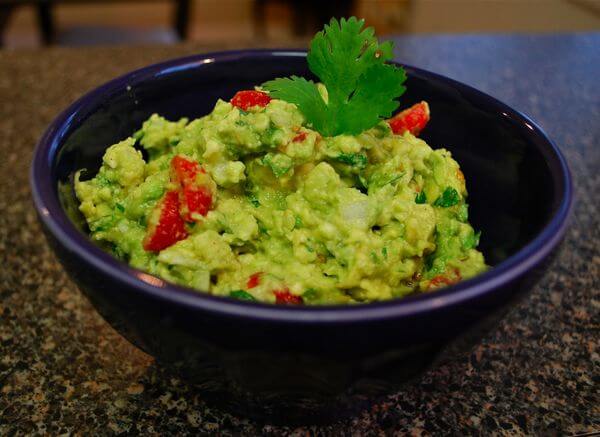 Ingredients
2-3 ripe avacados
¼ cup quartered grape or cherry tomatoes
¼ cup yellow onion
½ of 1 jalapeño and 1 serrano pepper, seeds removed and finely chopped
Coarsely chopped cilantro, to taste (I like about a teaspoon and a half)
1 clove minced garlic
Juice of two limes
Splash of lemon juice
¼ teaspoon each cumin and cayenne pepper (or to taste)
Salt and pepper, to taste
Directions
Cut avocados in half. Remove the pit. Scoop out avacado from the peel, put in a mixing bowl.
Using a fork or potato masher, roughly mash the avocado. (Don't overdo it! The guacamole should be a little chunky.) Immediately add the chopped onion, cilantro, garlic, and tomatoes. Season with the juice of two limes (about 2 teaspoons), a splash of lemon juice, cayenne pepper, cumin, salt and pepper and mash some more.
Chili peppers vary individually in their hotness. Start with a half of each pepper (jalepeno and serrano) and add to the guacamole to your desired degree of hotness.
Cover with plastic wrap directly on the surface of the guacamole to prevent oxidation from the air reaching it. Refrigerate until ready or serve immediately.