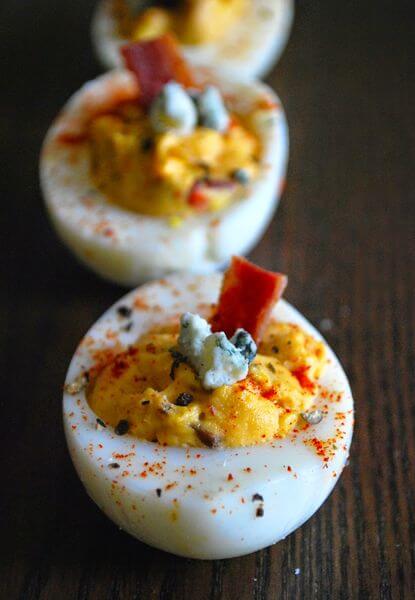 Ingredients
¼ cup mayonnaise
1 teaspoon Dijon mustard
1 teaspoon white wine vinegar
1 teaspoon canned chipotle peppers in adobo sauce, chopped
1-2 teaspoons adobo sauce from can (add more to reach desired taste)
¼ teaspoon garlic powder
½ teaspoon lemon juice
Salt and pepper, to taste
1 slice bacon, roughly chopped
Smoked paprika for garnish
Crumbled gorgonzola or bleu cheese for garnish
Directions
Cut hard-boiled eggs in half.  Remove yolks and add to a small mixing bowl and arrange egg whites hollow side up on a serving plate.
Mash yolks into a fine crumble with a fork. Stir in mayonnaise, mustard, vinegar, chipotle peppers/sauce, lemon juice, and garlic powder and mix well. Add salt and pepper to mixture if desired.
Evenly disperse the yolk mixture into the egg whites, filling the hollows as much as possible. Top with cheese and small bacon piece.
Sprinkle with smoked paprika. Allow to chill for an hour in the refrigerator before serving.