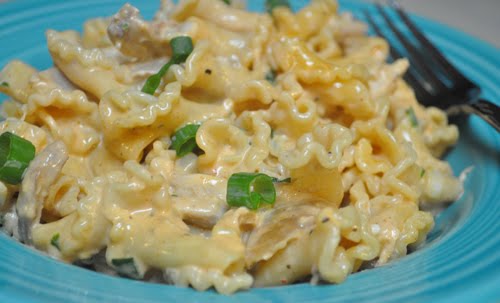 Buffalo chicken has long been a way for lovers of spicy foods and fried chicken to get the best of both worlds, but it has begun to evolve past only being available in the form of chicken wings. From pizzas to dips and beyond, buffalo chicken has become a more versatile flavor to achieve, and with the Creamy Buffalo Chicken Pasta, you can even enjoy it in pasta form. This pasta uses classic noodles of your choice as a base for a thick, creamy sauce made from blue cheese, red hot sauce and butter, finished off with blue cheese.
Ingredients
8 ounces pasta of your choice
2 tablespoons butter
1 small clove garlic, minced
½ cup half and half
¼ cup red hot sauce, such as Texas Pete's or Durkee's
2 cups shredded cooked chicken
½ cup crumbled blue cheese
2 scallions, chopped
Directions
Bring a large pot of salted water to a boil over medium-high heat. Cook pasta according to package directions. Drain and set aside.
While the water comes to a boil and the pasta cooks, heat the butter in a large skillet over medium-high heat. Add the garlic and saute for 2-3 minutes, until wilted and fragrant. Add the half and half, hot sauce and chicken and simmer until the chicken is heated through. Add the drained pasta and stir into the sauce, simmering for a minute to make sure the pasta is hot. Remove from the heat and stir in the blue cheese and half of the scallions. Serve in pasta bowls and garnish each serving with a little of the remaining scallions.
Makes 4 servings.