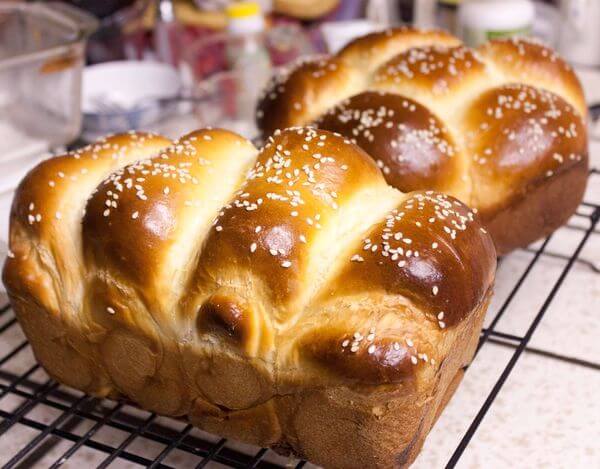 Ingredients
Tangzhong
1 cup water
1/3 cup all-purpose flour
Bread
3/4 cup whole milk
1/2 cup half/half
1/4 cup melted butter
2 eggs
800 grams all purpose flour
50 grams milk powder
4 tsp dry active yeast
1/2 cup white sugar
1 tsp salt
All of the Tangzhong
Directions
Tangzhong:
Mix flour and water in a sauce pan
Heat and stir the mixture until it reaches approximately 150 degrees F
Let the mixture cool before using it in the next steps
Bread:
Combine all the ingredients in a bowl or standmixer and mix the heck out of it, 10 or 15 minutes, until the dough is silky and smooth. I didn't initially add enough liquid so my dough was quite dry, but by adding more to the bowl and using wet hands I was able to work more milk and water into the dough.
Once you've kneaded the dough well, cover the bowl and let the dough rise until doubled in size, roughly an hour.
Divide the dough into smaller portions. I divided it into 8 ~210g pieces, which I baked 4 to a pan in 2 pans. As you can see, that was a bit much for the pans I have! Next time I think I'll divide the dough into 12 pieces and bake it in the 3 pans.
Cover the pans loosely and allow to rise for half an hour, then glaze with milk or an egg wash.
Heat the oven to 350F while letting the loaves rise another 15-30 minutes.
Baking the loaves at 350F for approximately 40 minutes. If they are browning too much, you can cover them loosely with foil.