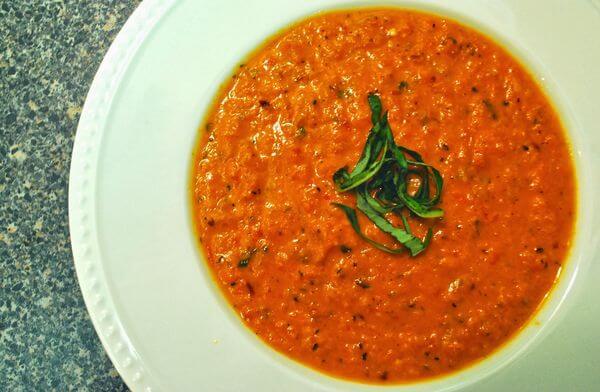 Ingredients
3 (14 oz) cans of Hunt's fire roasted tomatoes
5 garlic cloves, chopped
1 yellow onion, diced
2 cups chicken stock
1 cup heavy whipping cream
¼ cup olive oil
2 large carrots, peeled and diced
1 large onion, sliced
½ tablespoon dried basil, crushed
Pinch of red pepper flakes
Pinch of dried oregano
10 fresh basil leaves, rolled and cut into a chiffonade
Salt and pepper
Directions
In a heavy pot on medium high heat, pour in the olive oil and saute in the onion and carrots until translucent. Add the chopped garlic and heat with the onion and carrots for about four minutes.
Add basil and cook until vegetables are completely soft, about five minutes more.
Next, add the cans of fire roasted tomatoes including the juice to the pan and cover for about 15 minutes. Make sure you stir your mixture every few minutes. With the lid off the pan, add the chicken broth and heavy whipping cream and bring the pot to a simmer. The mixture should start to thicken as it reduces. This should take about 10 minutes. You want the soup to be somewhat thicken but not soupy. If your soup is a bit thin, let it simmer a bit longer while occasionally stirring.
When it comes to the right consistency, add the fresh basil (reserve some for a garnish) and season to taste with the salt and pepper. Lower your heat to medium and cook for 5 minutes more.
Using either an immersion blender or a regular blender, puree the soup until smooth. Be careful if using a regular blender as the soup is (obviously) hot! You may need to puree the soup in several batches.
Serve with a small sprinkle of the reserved bail as a garnish.