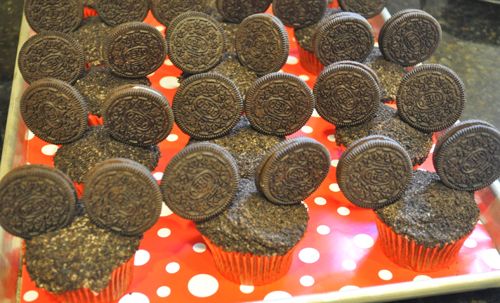 Delight your guests with a Disney-themed birthday party or just because when you whip up these Mickey Mouse Cupcakes. The cupcakes are made with a devil's food chocolate cake mix and chocolate pudding, and, when mixed together, make the cake part of the cupcake creamy, moist and decadent. The buttercream-style icing adds an even smoother element to the cupcakes, making each bite rich and velvety. Pop an Oreo cookie into either side of the cupcake's top for ears and turn it into a cute Mickey Mouse-themed cupcake that will have kids and adults alike smiling.
Ingredients
Cupcakes:
1 box Pillsbury Devil's Food Cake Mix
1 Small Box Instant Chocolate Pudding Mix
1 cup Sour Cream
1 cup Vegetable Oil
4 Eggs
2 tsp vanilla extract
1/2 cup Water
"Buttercream" Frosting:
2 cups Shortening
1 tsp Butter Flavoring
2 tsp Vanilla Flavoring
2lbs Powdered Sugar
Water to desired consistency (usually around 3/4 cup)
Directions
Cupcakes:
Preheat your oven to 325 degrees and line your muffin tin with paper liners. In a large mixing bowl, mix together all of the cupcake ingredients and then fill liners about 2/3 full.
Bake for 18 to 22 minutes.
"Buttercream" Frosting:
Cream shortening until smooth, add butter and vanilla flavorings until mixed, slowly add powdered sugar and water until you reach the desired consistency, about 3/4 cup.
Use a #12 Wilton writing tip and put the icing in a regular bag with that tip.  Push it down in the middle of your bag and squeeze it in the center of the cupcake while you pull up. It may pull away part of the top of the cupcake but since you are completely covering them with icing/crumbs you will never be able to see!
Ice the tops of all of the cupcakes and set aside while you prepare to finish them.
To complete the cupcakes:
Very finely crushed (about 1 sleeve) Oreo cookies
Whole Oreo cookies, 2 per cupcake, to make the ears
Toothpicks, 2 per cupcake, to secure the ears (BE SURE TO MAKE THE PARENTS AT YOUR PARTY AWARE THAT THERE ARE TOOTH PICKS IN THE CUPCAKES SO THAT THEY CAN REMOVE THEM BEFORE SERVING THE CUPCAKES TO YOUNG CHILDREN.)
Smoosh frosted cupcakes into crushed Oreos. Stick a toothpick about half its length in each two Oreo cookies to make Mickey's ears. Insert the part of the toothpick that is sticking out to stick the ears onto the cupcakes.
Cover until ready to serve.