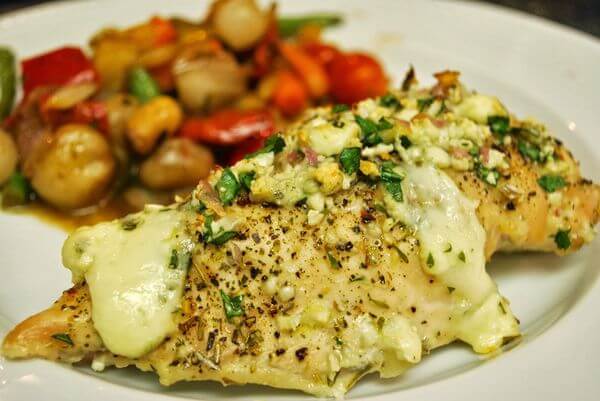 Ingredients
2 boneless skinless chicken breast halves
¼ cup gorgonzola, crumbled
2 tablespoons fresh parsley, minced
2 tablespoons shallots, minced
1 garlic clove, minced
Salt
Fresh ground black pepper
1 tablespoon extra virgin olive oil
Directions
Preheat oven to 375 degrees. Spray an 8×8-inch baking dish with cooking spray or drizzle with olive oil.
Using a sharp knife, cut a slit into the thick side of each chicken breast about 2 inches long and 1½-2 inches deep.
Mix together the Gorgonzola cheese, parsley, shallot, and garlic in a small bowl; season with salt and black pepper. Divide the filling in half, and stuff each chicken breast with cheese filling, reserving some for the topping.
Place the chicken breasts into the prepared baking dish and secure with toothpick if necessary. Top with extra cheese mixture.
Bake in the preheated oven until the chicken is no longer pink inside, about 30-35 minutes.