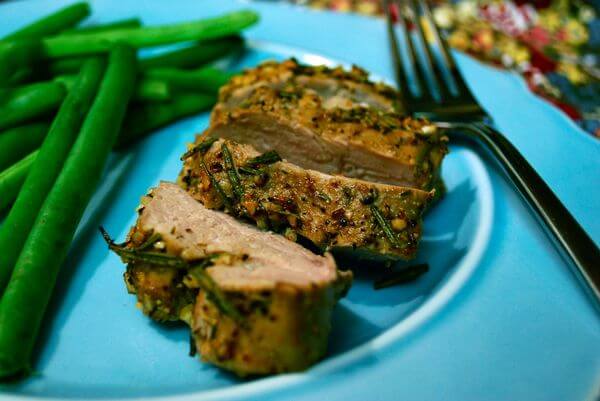 Ingredients
4½ pounds pork tenderloin (about 4 tenderloins)
Balsamic vinegar
Extra virgin olive oil
6 garlic cloves, peeled
Steak seasoning blend (or coarse salt and black pepper)
4 sprigs fresh rosemary, leaves stripped
4 sprigs fresh thyme, leaves stripped
Directions
Preheat oven to 500 degrees. Trim fat off tenderloins. Place tenderloins on a cooking sheet or baking pan and coat with a few tablespoons of balsamic vinegar, rubbing vinegar into meat. Drizzle tenderloins with olive oil, just enough to coat.
In food processor or blender, combine steak seasoning blend (or coarse salt and black pepper), rosemary, thyme, garlic, and 1 tablespoon olive oil. Rub meat with blend and let marinate for 10-30 minutes.
Roast in hot oven 20-25 minutes. Let meat rest, transfer to carving board, slice and serve.