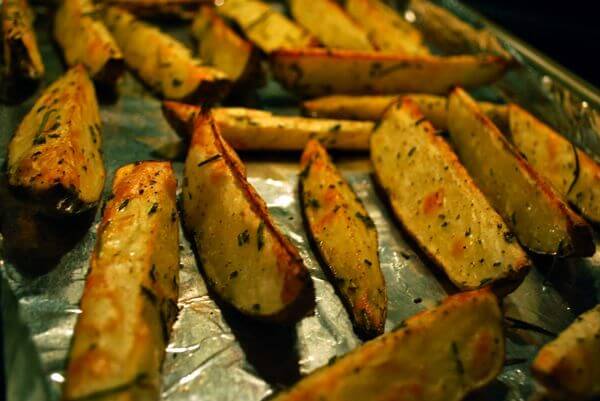 Ingredients
2 large baking potatoes, unpeeled
4 tablespoons extra virgin olive oil
1 ½ teaspoons kosher salt
¾ teaspoon freshly ground black pepper
1 teaspoon minced fresh garlic
2 teaspoon minced fresh rosemary leaves
1 teaspoon oregano flakes
Directions
Preheat the oven to 400 degrees F.
Scrub the potatoes, cut them in half lengthwise, then cut each half in thirds lengthwise. You'll have 6 long wedges from each potato. You can cut thinner if you desire.
Place the potatoes in a large bowl and season with the olive oil, salt, pepper, garlic, oregano and rosemary. With clean hands, toss all the ingredients together, making sure the potatoes are covered with oil. Spread the potatoes in a single layer sheet pan, lined with aluminum foil, with skin side down.
Bake the potatoes for 30 to 35 minutes or until they are lightly browned, crisp outside, and tender inside. Serve hot.