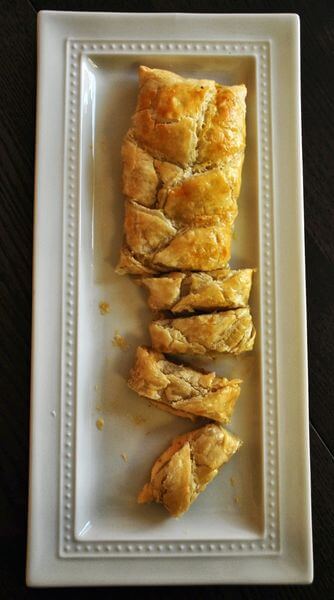 Ingredients
One sheet of thawed puff pastry or crescent roll dough
Gouda cheese
spicy brown mustard
smoked sweet paprika
Directions
Roll out the puff pastry on a well floured or counter. Put the puff pastry on a baking sheet lined with parchment paper. Make slits in the puff pastry like pictured above. You are going to overlap the strips to close the puff pastry.
Squeeze some mustard down the middle of the puff pastry. About 2 Tablespoons.
Spread the mustard out using a pastry brush or knife. Top with smoked sweet paprika.
Arrange the Gouda slices evenly on top of the mustard. Top with additional spice if desired.
Overlap the strips of puff pastry.
To make an egg wash, whisk together the egg and a few teaspoons of water. Brush the egg wash over the braided puff pastry. Seal the ends together tightly.
Bake in a preheated 350 degree oven for 20 to 25 minutes or until puffed and golden brown.