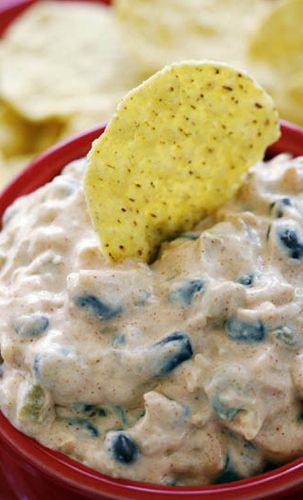 Perfect for summer get togethers, the Creamy Black Bean Dip is a light, easy-to-eat dip that can satisfy anyone's cravings for something rich and creamy. This dish takes inspiration from classic Southwestern and Tex-Mex style foods, incorporating chunky black beans, smooth sour cream, plenty of sharp cheddar cheese and chilis to give it a bit of a bite. Make this dish for guests coming over to let them snack before dinner or use it as one of your dips or sides for a larger get together. It takes only minutes to whip up.
Ingredients
2 cups reduced-fat sour cream
1 tablespoon taco seasoning
1/2 teaspoon chili powder
1/2 teaspoon garlic salt
3 dashes Tabasco sauce
1 cup shredded jalapeno-Jack or sharp Cheddar cheese
1 15-ounce can black beans, rinsed and drained
1 4-ounce can diced green chilies
1 green onion, chopped
Directions
Combine sour cream, taco seasoning, chili powder, garlic salt and Tabasco in a medium bowl.  Fold in cheese, black beans, green chilies and chopped green onion.  Refrigerate until ready to serve.
Makes 12 appetizer servings.