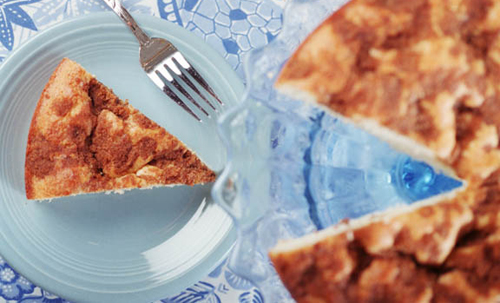 Give yourself a little taste of childhood and cook up this classic Grandma's Easy Coffee Cake. The cake is simple to make and will rival even the version Grandma used to make when you were little. The recipe uses basic ingredients that are usually already well stocked in the house, such as milk, flour, baking powder, cinnamon, brown sugar and margarine. Taking only 25 minutes to bake before it is ready to be enjoyed, the cake makes the perfect choice of dessert that you can quickly whip up on a whim without first having to make a trip to the store.
Ingredients
2 tablespoons butter or margarine, melted
1/2 cup brown sugar
2 tablespoons flour
2 teaspoons cinnamon
3/4 cup sugar
1/4 cup vegetable oil
1 egg
1/2 cup milk
1 1/2 cups flour
2 teaspoons baking powder
1/2 teaspoon salt
Directions
Preheat oven to 350 degrees F on convection bake. In a small bowl combine melted butter or margarine with brown sugar, flour and cinnamon. Set aside.
Cream sugar, oil, egg and milk in a medium bowl. Stir in flour, baking powder and salt. Pour batter into 9-inch square baking dish, 8-inch spring form pan, pie plate or muffin tins that have been sprayed with nonstick cooking spray. Sprinkle cinnamon mixture over top of batter and bake for 20 to 25 minutes.
Makes 8 servings.