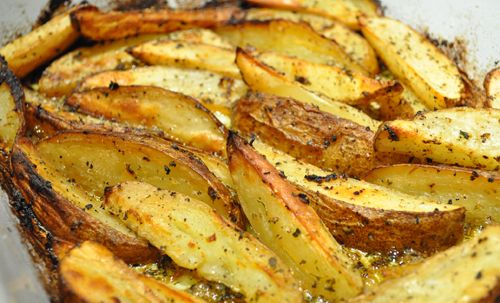 Potatoes are a filling, delicious, versatile food that can complement any meal, no matter what it is. With so many different ways to create yummy potato dishes, there are endless recipes for you to take advantage of, and these Greek Potatoes should be one of them. These potatoes take into account the delicious, commonly used spices and herbs in Greek cuisine with their earthy flavor and have a zing of fresh citrus flavor to make them pop to life. They are easy to prepare and make an excellent side to any summer and fall foods.
Ingredients
4 fairly large potatoes or 5 smaller potatoes
¼ cup olive oil
¼ cup fresh lemon juice
¾ cup water
2 teaspoons minced fresh garlic, about 2 large cloves
2 large cloves
1 tablespoon dried oregano
Sea salt and freshly ground black pepper, to taste
Directions
Preheat oven to 400 degrees.  Spray a 9-by-13-inch baking dish with nonstick cooking spray and set aside.  Scrub potatoes and cut each potato into large wedges.  Place in baking dish. Combine olive oil, lemon juice, ½ cup of water, garlic and oregano in a bowl and pour over the potatoes.  Toss, sprinkle with salt and pepper and bake for 40 minutes.
Remove from the oven and then turn the potatoes over.  Add remaining ¼ cup of water to the pan, sprinkle lightly with salt and pepper and a bit of oregano and bake for another 40 minutes, until potatoes are tender.  Makes 4-6 servings.