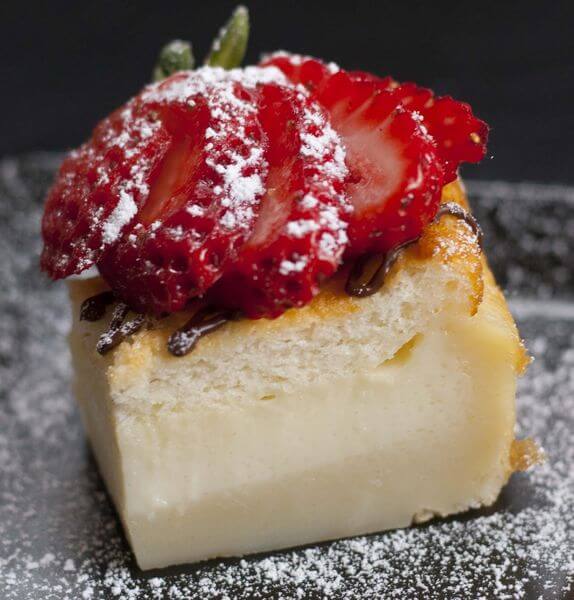 Ingredients
2 egg whites, room temperature
Pinch of meringue powder (optional)
2 drops of white vinegar (optional)
2 egg yolks, room temperature
75 grams confectioner's sugar (this was the only thing I weighed, but it should be around 1/2 cup + 1/8 cup of sugar)
1/2 tbsp water
1/4 cup butter melted and slightly cooled
1/2 cup all purpose flour
1 cup warm 2% milk (or any milk)
1 tsp (good) vanilla extract
Directions
Preheat oven at 325 degrees

Use a stand or hand mixer to whip up the egg whites and meringue powder to a stiff peak. Also you can add a few drops of vinegar to the egg whites before you whip it up.

In a medium size bowl, use a whisk to whip up the egg yolks for 30 seconds, then whisk (or stir) in the powdered sugar and water. Add in melted butter and vanilla, and mix until combined. Add in flour, stir, and slowly add in the milk. Whisk until combined, batter will be very thin (around 1 minute of whisking)

Using a whisk, gently beat/stir in 1/3 of the egg whites to the batter, continue with the rest of the egg whites in 1/3 increments. The batter will look lumpy, so don't worry too much about getting it all smooth. I probably whisked it around 10 times after every new addition of egg whites, don't over do it!!

Pour into a lightly buttered loaf pan (8.5 inches x 3.5 inches) and place into preheated oven for 45-50 minutes or until top is evenly golden brown, and the center is still jiggly when moved. Remove from oven, and let cool completely before serving. It will deflate and look undercooked but it should be a nice consistency when it sets up.