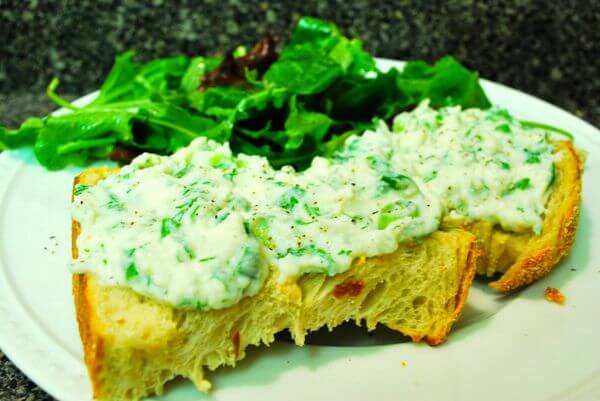 Ingredients
2 cups ricotta, store-bought or homemade (recipe here)
4 tablespoons minced scallions, white and green parts
2 tablespoons minced fresh dill
1 tablespoon minced fresh chives
1 tablespoon minced fresh parsley
Kosher salt and freshly ground black pepper
1 round sourdough bread
Good olive oil
1 whole garlic clove, cut in half
Directions
Prepare a charcoal grill with hot coals or turn a gas grill to medium-high heat.



Combine the ricotta, parsley, scallions, dill, chives, 1 teaspoon salt, and ½ teaspoon pepper and set aside. Cut the bread in half and cut each half into thick slices..
When the grill is hot, brush the bread with olive oil and grill on each side for 1 ½ to 2 minutes, until lightly browned. Remove from the grill and rub each slice of bread with the cut side of the garlic clove. Sprinkle with salt and pepper and spread with the herbed ricotta.
Serve two slices per person with a green salad on the side.