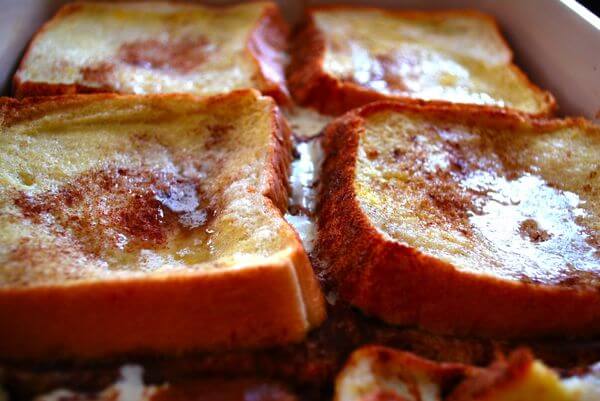 Ingredients
½ cup melted butter (1 stick)
1 cup brown sugar
1 loaf Texas toast
5 eggs
1½ cup milk
1 teaspoon vanilla
Powdered sugar and cinnamon to taste
1 8 oz container Mascarpone cheese
Directions
Melt butter in a medium-sized microwaveable bowl. Add brown sugar into the melted butter and stir together. Pour into 9×13 pan, spreading evenly to cover the bottom.
Whisk together five eggs in a large bowl. Add milk and vanilla to egg mixture. Add 1 tablespoon powdered sugar to egg mixture (optional).
Spread even layer of Texas Toast on butter and brown sugar layer. Add dollops of Mascarpone all over the top of the bread layer. Ladle half of the egg mixture on to the bread and Mascarpone. Sprinkle sugar and cinnamon over the egg. Spread second layer of Texas Toast, ladling the second half of egg mixture. Spread thin layer (or scatter a few chunks) of butter over the top of the toast. Sprinkle lightly with white sugar & cinnamon. Refrigerate overnight.
Bake at 350 degrees for 45 minutes. Top should be crusty, middle should be soft and moist. Sprinkle with powdered sugar and enjoy.