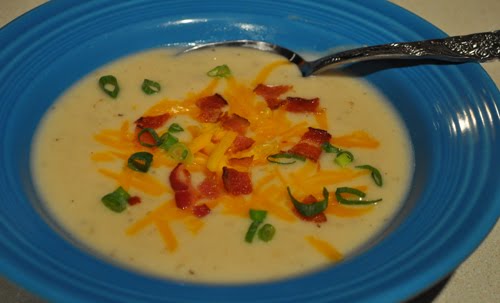 Mashed potatoes are a go-to for a side dish for many families due to their sheer versatility and the way that they seem to satisfy even the pickiest of eaters. This Mashed Potato Soup puts a more filling and hearty spin on classic mashed potatoes by turning them into a creamy, thick soup that can serve both as a side dish or as the main course on any cold evening. The soup is garnished with traditional mashed potato toppings such as crispy bacon, green onions, sharp cheddar cheese and onion to give it its classic flavor.
Ingredients
5 strips of bacon
1 cup very finely chopped onion, about 1 small onion
3 tablespoons flour
3 cups reduced-sodium chicken broth
2 cups leftover mashed potatoes
1 1/2 cups half and half
Salt and freshly ground black pepper, to taste
Shredded sharp cheddar cheese, for serving
Chopped green onions or chives, for serving
Directions
Spray a stock pot or Dutch oven with nonstick cooking spray. Cook bacon over medium heat in the prepared stock pot until bacon is crisp. Remove bacon and drain on paper towels. Measure out 2 tablespoons of bacon drippings (or discard of the drippings and use 3 tablespoons olive oil).
Heat the drippings or olive oil over medium-high heat and add the onion. Saute until the onion is very tender and translucent, about 5 minutes.
Whisk in the flour and cook, stirring, for 1 minute. Whisk in the broth and mashed potatoes and bring to a boil. Reduce heat and simmer, stirring occasionally, for 5 minutes.
Stir in the half and half and simmer 5 minutes more. Crumble the bacon and set aside. Taste and add salt and pepper as needed. Ladle into bowls and sprinkle each serving with a little crumbled bacon, shredded cheddar cheese and chopped green onions.
Makes 4 servings.