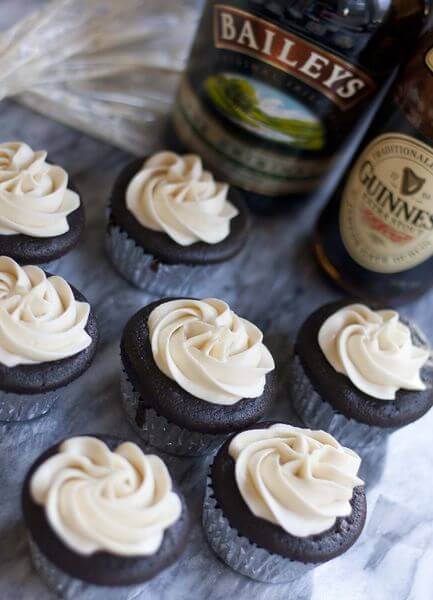 Ingredients
Cake
2 cups stout (such as Guinness)
2 cups (4 sticks) unsalted butter
1 1/2 cups unsweetened cocoa powder (preferably Dutch-process)
4 cups all purpose flour
4 cups sugar
1 tablespoon baking soda
1 1/2 teaspoons salt
4 large eggs
1 1/3 cups sour cream
Icing
1 stick of butter
2 – 2 1/2 cups powdered sugar (enough to make the frosting sufficiently stiff)
1.5 tbsp Bailey's
Directions
Preheat oven to 350°F. Butter 2 cupcake pans.
Bring 2 cups stout and 2 cups butter to simmer in heavy large saucepan over medium heat.
Add cocoa powder and whisk until mixture is smooth. Cool slightly.
Whisk flour, sugar, baking soda, and 1 1/2 teaspoons salt in large bowl to blend.
Using electric mixer, beat eggs and sour cream in another large bowl to blend. Add stout-chocolate mixture to egg mixture and beat just to combine. Add flour mixture and beat briefly on slow speed. Using rubber spatula, fold batter until completely combined.
Divide batter evenly into cupcake pans.
Bake cakes until tester inserted into center of cakes comes out clean, 20-30 minutes. Transfer cupcakes to rack; cool 10 minutes. Remove cupcakes onto rack and cool completely.
Icing
Cream butter, powdered sugar and Bailey's until it's a nice semi-stiff consistency
Pipe icing onto cupcakes.