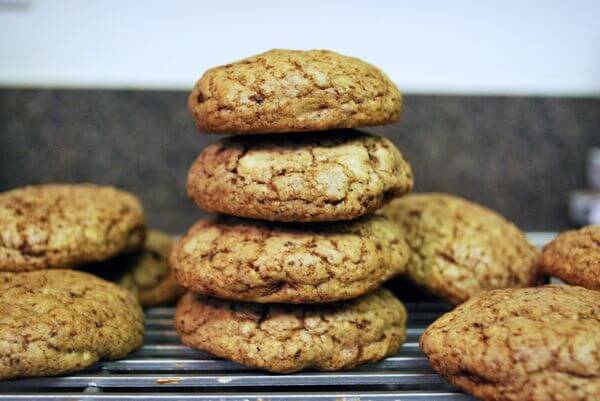 Ingredients
Vanilla Base Dough (recipe follows)
2 cups (12 ounces) semisweet chocolate chunks
2 cups (4 ounces) bittersweet chocolate curls or shavings
Vanilla base dough:
2 1/2 cups (7 1/2 ounces) old-fashioned rolled oats
2 cups (8 ounces) all-purpose flour
1 teaspoon baking powder
1 teaspoon baking soda
1/2 teaspoon salt
1 1/2 cups (12 ounces) unsalted butter, at room temperature
1 cup (7 ounces) granulated sugar
1 cup (7 ounces) light brown sugar
2 large eggs, at room temperature
1/2 tablespoon pure vanilla extract
Directions
Preheat the oven to 350 degrees F.
Line two baking sheets with parchment paper. (Alternatively, use nonstick baking sheets or lightly butter conventional baking sheets.) Set aside.
Place the oats in the bowl of a food processor fitted with the metal blade and process until finely ground. Transfer the ground oats to a mixing bowl. Stir in the flour, baking powder, baking soda, and salt. Set aside.
Place the butter in the bowl of a standing electric mixer fitted with the paddle. Begin beating on low speed to soften. Increase the speed to medium and beat for about 3 minutes, or until light and creamy. You may also use a hand-mixer if a standing electric mixer isn't available.
With the motor running, gradually add the granulated sugar and then the brown sugar, beating until very light and creamy.
Add the eggs, one at a time, and beat to incorporate, scraping down the sides of the bowl with a rubber spatula after each addition. Beat in the vanilla and when blended, slowly beat in the reserved dry mixture.
Stir in the chocolate chips and chocolate shavings or curls. While the dough is still streaky, remove the bowl from the mixer and scrape the paddle clean.
Lightly flour a clean, flat work surface.
**If necessary** Scrape the dough onto the lightly floured surface. Lightly flour your hands and finish mixing the dough by using a light kneading motion, working until the dough is just blended. Do not overwork the dough, you just want to be certain that all of the ingredients are just blended together.
Using a tablespoon or small ice-cream scoop, make mounds of dough. Roll the dough into balls about 1 1/2 inches in diameter. Place the balls, about 2 inches apart, on the prepared baking sheets. Using your palm, gently flatten each ball to make a puck-like shape about 2 inches in diameter.
When all of the cookies are formed, place in the oven and bake for about 15 minutes, or until lightly browned around the edges and set in the center. Do not over bake; you want some chewiness in the center.
Remove from the oven and, using a metal spatula, transfer the cookies to wire racks to cool.