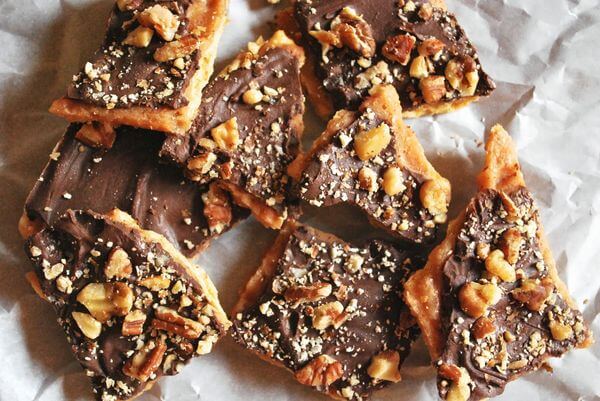 Ingredients
1 sleeve Saltine Crackers (with sea salt)
2 sticks unsalted butter
1 cup white sugar or 1 cup packed brown sugar
1 bag semisweet chocolate chips
1 cup walnuts or pecans, chopped (optional)
Directions
Preheat oven to 350 degrees. Prepare a baking sheet by lining it with aluminum foil and spraying the foil with nonstick cooking spray. Line baking sheet with Saltines salt side up.
Melt butter on medium heat in sauce pan. Add sugar, stir until it caramelizes (bring to a boil and then stir constantly for 3-5 mins, but be careful not to let it burn).
Pour butter/sugar mixture over crackers and smooth so it covers evenly. The mixture will spread as it bakes, too. Bake for 12-13 minutes or until a light golden brown.
Remove from oven and pour chocolate chips over the top. Once melted, spread chocolate to cover all crackers.
Top with chopped nuts. Let cool completely in freezer/fridge, then break into large pieces.