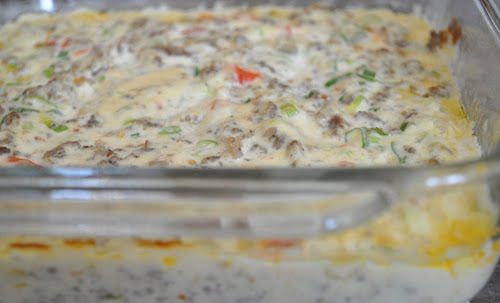 Fill the house with the aromas of a breakfast your family will be scrambling out of bed to eat when you prepare this Sausage Dip. All of the delicious flavors of sausage breakfasts are captured in this modern take on a classic breakfast, and it also becomes more fun to eat than a standard fork-and-knife-style meal. The creamy mayonnaise and sour cream base gives the dip the perfect thickness and carries with it the slightly sweet and sour flavor of pimentos. This is due to the consistency of the final product that is best eaten with corn chips like an appetizer.
Ingredients
1 pound hot bulk sausage
5 green onions, chopped
1 cup sour cream
1/2 cup mayo
1/4 cup grated Parmesan cheese
1 2-ounce jar pimentos, drained
Dip-style corn chips, such as Frito's Dips
Directions
Preheat oven to 350F.
Brown the sausage in a large nonstick skillet. Drain. Combine with remaining ingredients and spread in a baking dish. Bake 20-25 minutes, until bubbling. Serve hot with the corn chips for dipping.