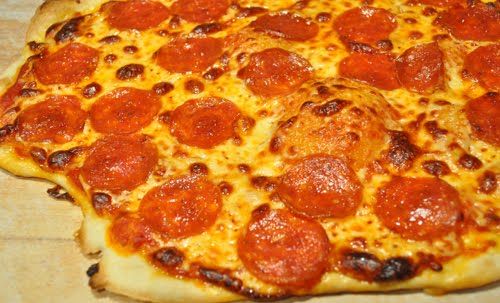 With play rehearsals, sports games and practices, tutoring sessions or just late nights at the office, being a busy parent with busy kids can leave you without time to cook every single night. Sometimes, it simply isn't possible to cook a dinner for the family, and when those busy nights arrive, you can turn to the School Night (or Anytime) Pizza. This pizza is easy to make, quick to cook and delicious to eat, making it perfect for any night where you're in a rush to give your family something yummy to eat.
Go ahead and place your pizza stone on the bottom rack of your oven and crank the oven up to 500+ degrees. Now proceed with the recipe.
Ingredients
For the crust:
2 1/2 cups all purpose flour
1 teaspoon sea or kosher salt
2 tablespoons cubed cold butter, melted butter, olive or corn oil (you choose)
1 cup beer
Pulse the flour and salt together in a food processor fitted with a steel blade. Pulse in the cold butter until it's well distributed. (If using the melted butter or oils, just add them to the food processor along with the beer.) Add the beer (if using the cold butter) and pulse until smooth. Form into two balls and set aside. (Cover with plastic wrap if it's going to be more than a few minutes until you assemble your pizzas.)
To assemble the pizzas:
All-purpose flour, to sprinkle on the counter
Fine cornmeal, to sprinkle on the counter and on the pizza peel
3-4 tablespoons simple pizza sauce
Sprinkling dried oregano
Sprinkling garlic salt
1 cup shredded mozzarella per pizza
About 30 sliced pepperoni per pizza
Dust your counter top or large cutting board with some of the flour and cornmeal. Take one ball of dough and pat out with your fingers on top of the dusted counter top. Use a rolling pin to roll the dough into a 12 to 13-inch round. Sprinkle the pizza peel with the cornmeal and then move the prepared crust (floured side down) to the peel.
Spread the sauce on top, sprinkle with the oregano and garlic salt, top with the shredded mozzarella and pepperoni (or other topping of your choice) and slide onto the hot pizza stone. Bake for 12 minutes, use the pizza peel to remove the pizza from the oven and allow the oven to reheat before baking the second pizza.
Makes 2 pizzas, each serving 2-3 people.