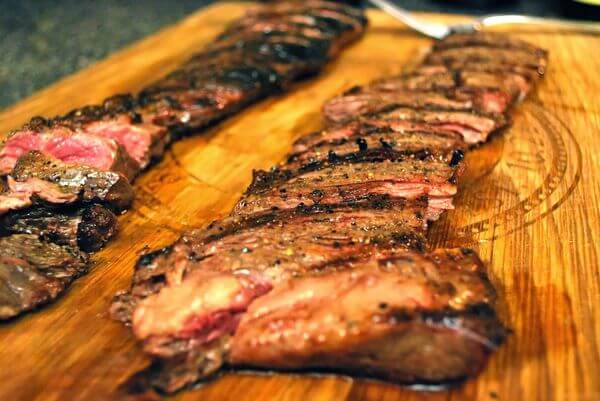 Ingredients
4 tablespoons unsalted butter
2 garlic cloves, minced
1 ½ teaspoons smoked sweet paprika
1 tablespoons fresh lemon juice
Kosher Salt
2-3 pounds skirt steaks
Vegetable oil, for rubbing
Freshly ground pepper
Directions
Light a grill or heat a grill pan.
In a small saucepan, melt the butter. Add the garlic and cook over low heat, stirring, until golden, about 3 minutes. Add the paprika and cook until fragrant, about 30 seconds. Remove from the heat, stir in the lemon juice and season with salt; keep warm.
Rub the skirt steaks with oil and season with salt and pepper. Grill over high heat until nicely charred and rosy within; medium-rare, about 3 minutes per side. We did 2 ½ minutes on each side for medium rare, and it was perfect.
Transfer the steaks to a cutting board and let rest for 5-10 minutes. Using a sharp knife, thinly slice the steaks across the grain. Spoon the paprika butter over the steak and serve right away.
Make ahead: The paprika butter can stand at room temperature for up to 4 hours; reheat the butter gently.