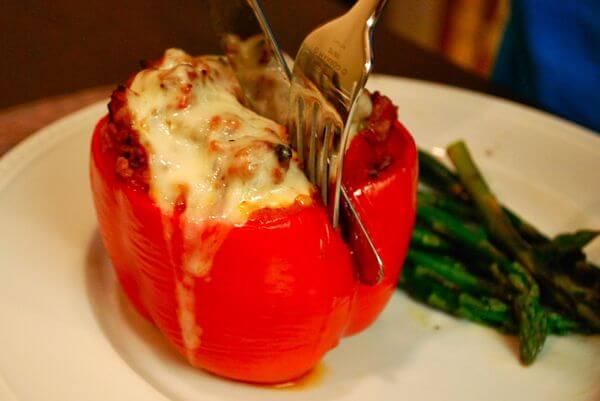 Ingredients
½ pound ground turkey
2-3 large red or green bell peppers
½ cup chopped yellow onion
1 clove garlic, finely chopped
1½ cups cooked brown rice
1 can (15 ounces) organic tomato sauce
1 small can (8 ounces) diced tomatoes
¼ cup each of shredded cheddar and Parmesean cheeses
1 slice of provolone cheese
Salt, pepper, and Italian herbs seasoning to taste
Directions
Cut thin slice from stem end of each bell pepper to remove top of pepper. Remove seeds and membranes; rinse peppers. If necessary, cut thin slice from bottom of each pepper so they stand up straight. In 4-quart Dutch oven, or large pot, add enough water to cover peppers. Heat to boiling; add peppers. Cook about 2 minutes; drain.
In a large skillet, cook onion and garlic in 1 tablespoon of extra virgin olive oil for 2 minutes over medium-high heat. Add turkey and sprinkle with salt, pepper, and Italian herbs. Cook over medium heat 8 to 10 minutes, stirring occasionally, until beef is brown; drain.
Stir in 1 cup of the tomato sauce and the diced tomatoes. Stir and cook until hot, reducing heat to medium or medium-low.
Add in cooked rice and stir together. You may want to add more tomato sauce if you like it more liquid-y. After two minutes, add in the cheeses and mix well.
Line a small baking pan with a quarter inch of water and heat oven to 375 degrees. Stuff the peppers with the mixture and place carefully into the pan. Bake for 30 minutes or until tops become browned; remove and top with optional provolone cheese. Bake again for 3 minutes or until cheese is melted.