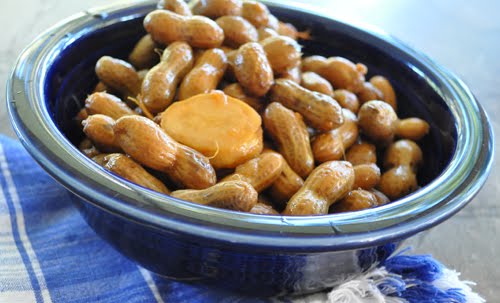 Spend any time in the Southeastern United States, and you'll quickly learn that you can't ever turn a corner and not see boiled peanuts. Sold on stands on the side of the road, in convenience stores and restaurants alike, this Southern staple is popular for its unique texture and ability to be made with any type of flavor profile. These boiled peanuts are made in one of the most popular Southern styles, full of spice and zing. Hot sauce, jalapeno peppers, habanero peppers and ginger give the peanuts several layers of different types of spiciness for a flavor explosion in every bite.
Ingredients
3 pounds raw green peanuts, washed
1/3 cup kosher or fine sea salt
1 cup hot sauce, such as Texas Pete
4 1/2-inch coins of fresh ginger (no need to peel)
1 tablespoons black peppercorns
2 bay leaves
2 habanero peppers, sliced in half
2 jalapeno peppers, sliced in half
Directions
Place all ingredients in a pot. Cover with water and stir. Bring to a boil and then reduce heat to medium-low or low and cook, partially covered, for 5-6 hours, adding water to keep all of the peanuts covered.
Makes a lot of peanuts!