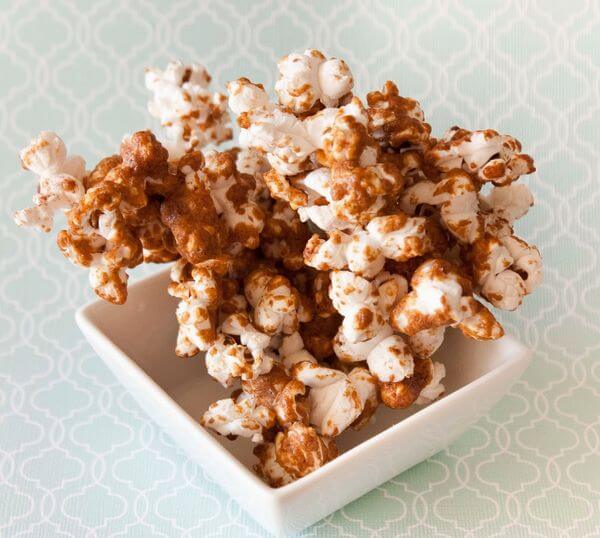 Ingredients
1/2 cup pop corn kernels
3 tbsp canola oil
1/2 tsp salt (optional)
5 quart pot with lid
3/4 cup dark brown sugar
1 1/2 – 2 tsp ground cinnamon
1/2 tsp ground ginger
1/4-1/2 tsp ground cloves
1/4-1/2 tsp ground nutmeg
3 tbsp corn syrup
4 tbsp butter
1 1/2 tbsp sweetened condensed milk
1 tsp vanilla extract
1/2 tsp baking soda
A large microwave safe bowl
Directions
Preheat oven at 300 degrees
Heat your pot at around medium/ medium high with the 3 tbsp of oil (+ salt if you'd like) drop in 3 kernels into the pot and cover it.
When all the kernels popped, pour in the rest of the kernels, cover lid, and shake away from heat, for 15 seconds.
Place back on burner. Continue to shake the pot over medium heat, and wait for all of them to pop, remove from heat when you don't hear a lot of popcorn popping anymore. Pour into a HUGE bowl, I used a 8 quart stock pot.
Sauce:
1. In a large microwave safe bowl, place the sugar and spices in it, and mix until combined. Place butter, corn syrup and sweetened condensed milk on top of the sugar, and microwave for 30 seconds.
2. Stir, and microwave for 2 minutes, stir, and microwave for 1 minute, stir in vanilla and baking soda, and QUICKLY pour it all over your popcorn, MIX QUICKLY or it will set up or clump up.
3. IMMEDIATELY pour popcorn mixture onto baking sheet in an even layer. Bake for 15-20 minutes in the preheated oven (@300) stirring the mixture halfway through. The popcorn is done when it's crunchy and no longer sticky.