The classic flavors of tart, sweet strawberries and smooth, creamy mascarpone cheese combine together to form the delectable Strawberry Mascarpone Tart. The delicious tart takes advantage of mascarpone cheese, a thick, rich and flavorful creamy cheese that is layered over top of fluffy puff pastry, providing a mouthwatering combination that creates a texture unlike any other. Arranged decoratively on top of the Strawberry Mascarpone Tart are sliced strawberries that add a certain fruity sharpness to the otherwise creamy treat, making it a delicious choice for desserts on warm summer days at picnics, barbecues, birthday parties and beyond.
Strawberry Mascarpone Tart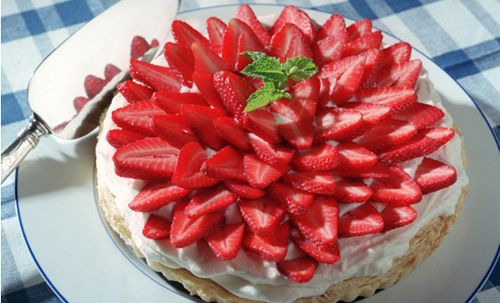 Ingredients
1 sheet frozen puff pastry, thawed
8 ounces mascarpone cheese, softened
1 cup sugar
1 tablespoon fresh lemon juice
1 cup (1/2 pint) whipping cream, whipped
Fresh strawberries, washed, stemmed and sliced
Directions
Preheat oven to 400 degrees.  Line a 9-inch tart pan with removable bottom with the puff pastry sheet, trimming to fit.  Place in oven and bake for 15 minutes, until puffed and golden brown.  Remove from oven and deflate by placing a pie plate and can or other heavy item atop the crust.  Set aside to cool.
Combine mascarpone, sugar and lemon juice in a medium bowl.  Fold in whipped cream and spread over the cooled puff pastry crust.  Refrigerate until ready to serve.
Just before serving, arrange sliced strawberries on top of mousse in decorative pattern.
Makes 6 to 8 servings.