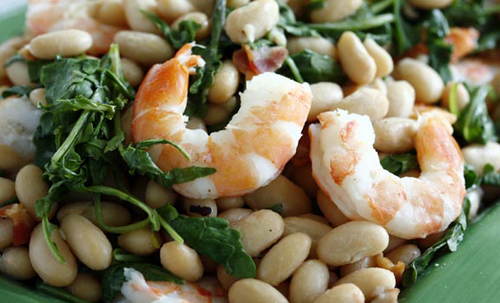 Light, fresh and easy to eat, the White Bean, Arugula and Shrimp Salad is a great choice for those who need a cold salad to go along with their favorite summer dishes. This White Bean, Arugula and Shrimp Salad uses a primary base of fresh white beans that offers plenty of smooth, creamy texture upon which the cooked arugula can rest. Topping off the salad is shrimp that adds a bright, seafood element to the dish. Finish it off with a little olive oil, garlic and black pepper to make it even more memorable.
Ingredients
2 tablespoons olive oil
3 tablespoons chopped pancetta, optional
2 teaspoons garlic, about 3 cloves, chopped
3 16-ounce cans cannellini or other white beans, rinsed and drained
Sea salt and freshly ground black pepper, to taste
3 cups baby Arugula or baby spinach (about 1 5-ounce bag), washed and dried
30 large shrimp, about 1 1/2 pounds, cooked, peeled and deveined
1 lemon, cut into 8 wedges, optional
Directions
Heat olive oil in a large skillet over medium heat. Add pancetta and cook for 2 minutes. Add garlic and cook 1 minute more. Add beans, season with salt and pepper and heat thoroughly. Turn off heat and fold in the arugula and shrimp. Squeeze a lemon wedge over the top of each serving, if desired.
Makes 8-10 servings.