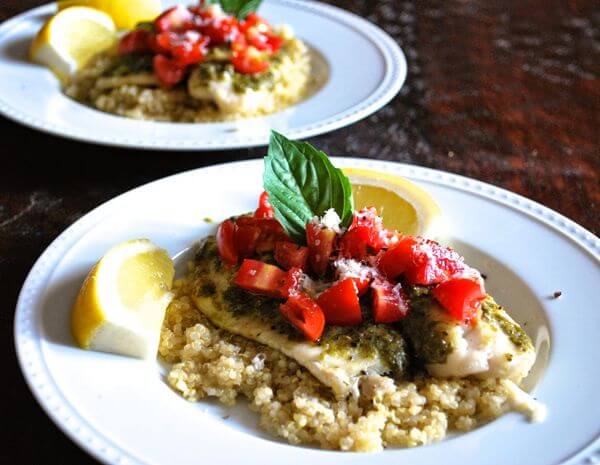 Ingredients
2 tilapia filets
4 tablespoons prepared pesto
2 tablespoons Parmesan cheese
1/2 cup quartered cherry or grape tomatoes
Salt and pepper
Basil and lemon slices for garnish
Directions
Heat the oven to 375 degrees. Line a baking dish with aluminum foil and lightly grease olive oil or cooking spray.
Place the fish in the dish and sprinkle with salt and pepper.
Spread or drizzle the pesto evenly over each filet of fish. Top each filet with 1 tablespoon Parmesan cheese.
Bake for 12-15 minutes, or until fish easily flakes with a fork and is opaque.
Top with basil leaf for garnish, quartered cherry tomatoes, and another sprinkle of cheese. Serve over rice or garlic quinoa.