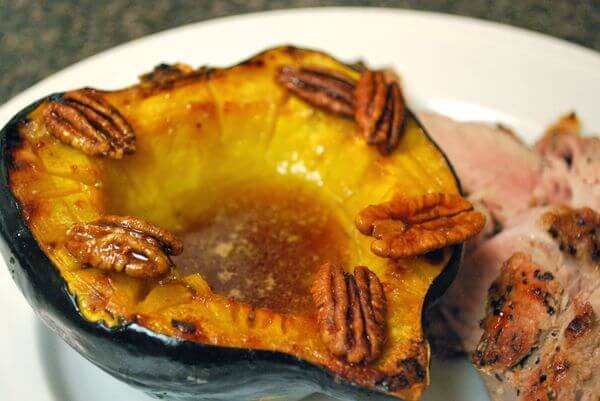 Ingredients
1 large acorn squash
1 tablespoon butter, softened
2 tablespoons brown sugar
2 teaspoons maple syrup
Dash of salt
Candied pecans for topping (optional)
Directions
Preheat oven to 400 degrees. Using a strong chef's knife, cut the acorn squash in half, lengthwise, from stem to end. Use a spoon to scoop out the seeds and stringy stuff in the center of each half. Score the insides of each half several times with a sharp knife.
Place each half in a baking pan, cut side up. Add about a ¼ inch of water to the bottom of the baking pan so that the skins don't burn and the squash doesn't get dried out.
Coat the inside of each half with ½ a tablespoon of butter. Add a dash of salt if you are using unsalted butter. Add a tablespoon of brown sugar to the cavity of each half. Dribble on a teaspoon of maple syrup to each half.
Bake in the oven for 60-75 minutes, until the squash is very soft and the tops are browned. Do not undercook. When finished, remove from oven and let cool a little before serving. Spoon any buttery sugar sauce that has not already been absorbed by the squash over the exposed areas.