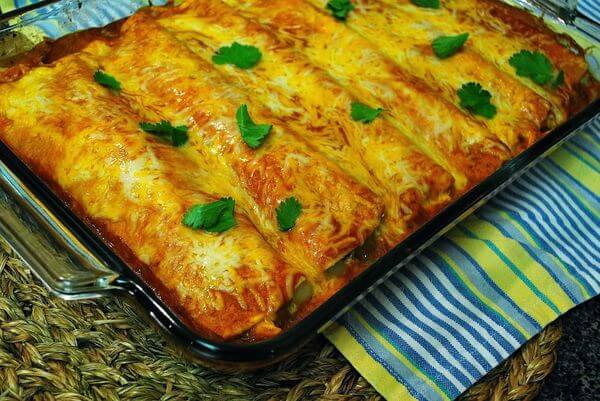 Ingredients
1 rotisserie chicken, hand-shredded
1 can diced green chilies
2 cans Trader Joe's enchilada sauce
2 generous cups shredded Mexican cheese
1 yellow onion, chopped
2 garlic cloves, minced
1 small jalepeño pepper, chopped
1 tablespoon fresh chopped cilantro
Juice of 1 medium lime
½ cup restaurant style salsa
Pinch of cayenne, cumin, salt, and pepper
6 tortillas*
Directions
Preheat the oven to 425F. Chop the onion and the garlic and cook in the oil in a pan over low/medium heat for about ten minutes, or until the onion has started to caramelize. Take mixture off the stove and set aside to cool.
Using your hands, pick and shred the rotisserie chicken into pieces and place in a large bowl. Squeeze the juice of 1 lime over the chicken and stir to combine. Let the chicken sit for 10 minutes to absorb the flavor.
Add ½ cup of the enchilada sauce, jalepeño, one cup of cheese, salsa, green chilies, a pinch of cayenne and cumin, and the onion and garlic mixture to the same bowl. Stir well to combine and adjust seasonings as necessary.
Pour half a can of enchilada sauce in a large glass casserole dish. Fill each flour tortilla with about ½ cup of the chicken mixture.
Roll up and place seam-side down in the dish and repeat with the remaining tortillas. Once you have filled up the dish completely, pour another cup of enchilada sauce on top and sprinkle with the remaining cup of cheese.
Cover loosely with tin foil and bake for 10 minutes. Remove foil and bake for another 10 minutes.
Cool and garnish with additional cilantro. Serve with guacamole, sour cream, and Mexican rice and beans. If you like a spicier enchilada, use hot enchilada sauce.