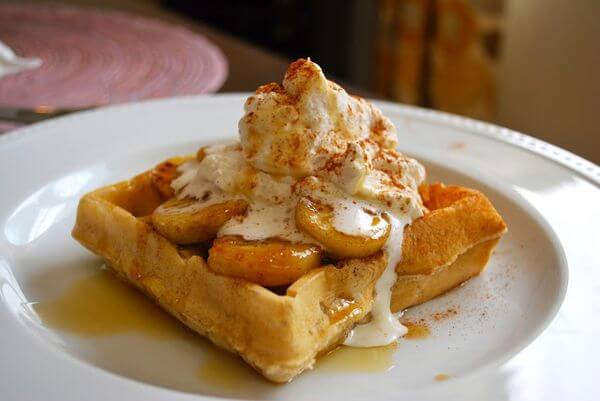 Ingredients
3-4 bananas, peeled and cut diagonally into slices 1/2 inch thick
4 tablespoons (1/2 stick) unsalted butter
3/4 cup maple syrup
3/4 tsp. ground cinnamon
2 tablespoons dark rum
1 tablespoon brown sugar (optional)
1 teaspoon vanilla bean paste or extract
6-8 Belgian waffles (I'm being transparent here. I use Bisquick. Sorry I'm not sorry I find it great. Use whatever waffle recipe you'd like!)
Directions
Cook waffles according to directions.
In a large sauté pan over medium heat, melt the butter with the maple syrup over medium heat. Stir in the cinnamon, rum and vanilla and simmer for 1 minute.
Add the bananas to the pan and cook for 2 to 3 minutes. Using a slotted spoon, transfer the bananas to a serving plate. Pour the maple syrup mixture into a sauceboat. Serve immediately with waffles and whipped cream. Serves 4.