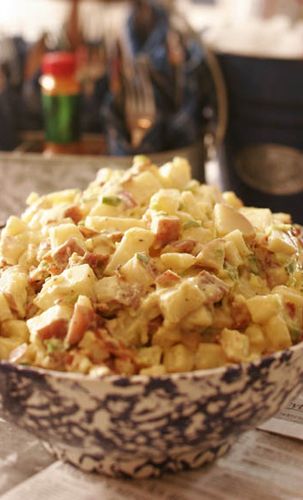 While potato salad is already a summer staple in many households, the Best Old-Fashioned Potato Salad with Bacon will let you take your classic potato salad to new heights. Small-cut potatoes offer a more textured feeling that seems to hold onto the onions and bacon ingredients more easily. This creamy potato salad has a unique flavor profile with the meatiness of the bacon, the sweetness of the sugar and the tartness of the vinegar and mustard that make it totally one of a kind. The recipe makes 8 to 10 servings and is sure to be a crowd pleaser.
Ingredients
4 eggs, beaten
1/2 cup sugar
1/2 cup apple cider vinegar
2 tablespoon mustard
1/2 teaspoon salt
1 cup whipping cream
3 pounds red potatoes, boiled and diced
Salt and freshly ground black pepper, to taste
6 green onions, sliced
12 strips bacon, cooked, drained and crumbled

Optional: Hard cooked eggs, 3-4 would be a nice addition
Directions
Whisk the eggs, sugar, mustard, salt and vinegar together in a small saucepan over medium-high heat.  Cook until thickened.  Set aside to cool for 10 minutes and then whisk in the whipping cream.  Place the potatoes in a large bowl and season with salt and pepper to taste and gently stir.  Add the green onions and bacon.  Pour the dressing over the top and toss gently to combine.  Refrigerate for several hours before serving.
Makes 8 to 10 servings.